Rodger Wireless Bedwetting Alarm Systems
THE Wireless Bedwetting alarm system at a low and
affordable price - with
FREE

UK Delivery

*Value * Quality * Convenience


Unmatched user convenience

Professional Design

Exceptional Value

Quality Tested

Flexible Attachment Options

And for extra peace of mind:


FDA Registered

Meets Environmental RoHS requirements

CE certified


BSA certified
Comfort: The Rodger alarm system has been designed with comfort in mind. The receiver unit plugs into a standard UK wall socket and the transmitter attaches securely to the special underwear. The loud (volume adjustable) alarm and flashing light and/or vibration will wake the user and/or the parent promptly.
Convenience: The poppers attach firmly so that the transmitter does not move. The sensor is incorporated into the underwear so there is no chance of it being in the wrong place or coming loose.


Innovation: The Rodger alarm has a unique design and excellent attachment mechanisms, with patents pending. Rodger bed wetting alarms provide convenience and ease-of-use through innovation.


Efficiency: No hassle or cost of supplies or modifying clothing, pads, tapes, etc. The Rodger alarm is transferable between children and its the underwear is affordable. With patents pending, the Rodger is easy on your mind and easy on your wallet.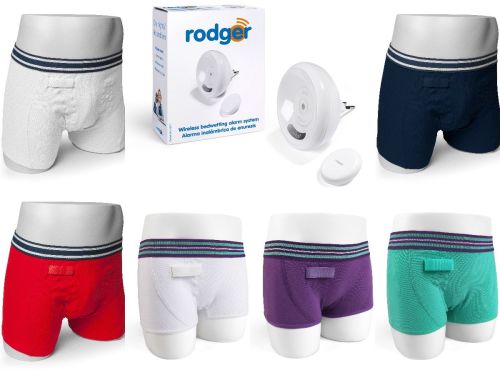 Alarm:

Plug the alarm into any mains socket

Set the alarm Tone and volume.

Vibration pad can be added (sold separately)

Features an LED light that flashes to alert the user and parent/carer.
Sensor:
The Sensor in incorporated into the underwear, and, as such

will not be

activated by perspiration as it would with some other alarm systems, it also cannot be worn in the wrong place or come loose/fall off.
Complete Alarm system Contents:
1 x Rodger alarm receiver unit with UK 3 pin plug, 1 x Wireless transmitter unit, 2 x items of Underwear, 1 x User instructions in English, 1 x progress chart, 1x sheet of progress stickers.
Underwear, which is necessary for the operation of the alarm system can also be purchased separately in a choice of 5 colours to enable client customisation.
Warranty:
The Rodger alarm and transmitter has a limited warranty for a period of 1 year starting from the date of purchase. The Rodger underwear has a limited warranty of 90 days from the date of purchase and is considered a consumable item. Any breech or breaking of any part of the Rodger Alarm receiver or transmitter* or underwear voids the warranty. Warranties do not apply to batteries. All genuinely defective items will be repaired/replaced for equivalent items while under warranty. Products cannot be returned for a refund unless they are returned to us in a new and unused condition and the outer box has not been opened, this is for strict hygiene reasons and no exceptions will be made, no product will be replaced should a used product be returned. Refunds must be requested within 14 days of the date of purchase, and product returned in line with our aforementioned returns standard.
*Opening Transmitter to change batteries will not void warranty, however, damage sustained from incorrectly installed batteries is not covered by warranty, we strongly recommend battery replacement be carried out by a professional